History
Corporate History
1910
Founder Rin'emon Fujii opens a Western confectionery store called "FUJIYA" in Motomachi, Yokohama, Kanagawa, Japan.
Christmas cakes go on sale.

1922
Isezakicho store (Yokohama) opens.
Sponge cakes are sold there.
1938
Dai-ni Fujiya Co., Ltd. established
Trade name changed to Fujiya Co., Ltd.
1951
Milky soft candies go on sale.
Birth of "Poko"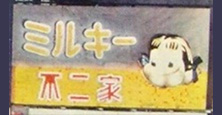 1950s
Papier-mâché dolls dressed as Peko (right) and Poko (left) ready to be displayed in stores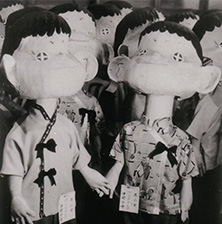 1952
Special Christmas season sales start.
1957
Around 1958
At Fujiya's cake store
1962
Production of Look A La Mode chocolate starts.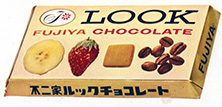 1963
Kyoto-Fushimi store, the first Fujiya franchise store, opens.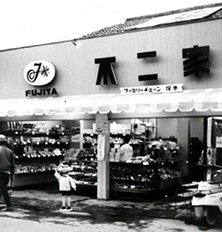 1964
Nectar fruit drink goes on sale.
1965
Company's stock listed on the first section of the Tokyo, Osaka and Nagoya stock exchanges (currently TSE only).
1973
B-R Japan Co., Ltd.(currently B-R 31 Ice Cream Co., Ltd.)established.
1982
Contract signed with Société Nouvelle Dalloyau of France for technical support and as exclusive import agent.
1984
Country Ma'am cookies go on sale.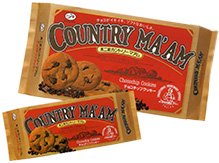 1989
Dalloyau Japon S.A. established.
1990
Products using the popular character Anpanman go on sale.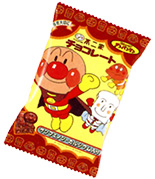 1994
Peko Cream Puff goes on sale.

1998
Fujiya characters "Peko" and "Poko" recognized as the first-ever three-dimensional trademark by the Patent Office.
2007
Business and capital tie-up agreement signed with Yamazaki Baking Co., Ltd.
2008
New business and capital tie-up with Yamazaki Baking Co.,Ltd. makes Fujiya a subsidiary of Yamazaki Baking Co., Ltd.
2015
Peko Exhibition at the Hiratsuka Museum of Art, Kanagawa